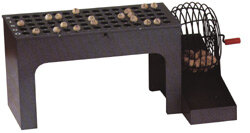 Bingo Cage - Non Power Cage
Price shown is for customer pick up. Item can be delivered for an additional cost. Rental tax added at checkout.
This Bingo Cage Set includes the master board and cage unit plus 75 bingo balls. To use this bingo cage, simply put the bingo balls on the master board during the game. When the game is over, just pull the lever and all the balls drop down and roll back into the cage. This set does not require power.